Judge Chambliss receives 2018 Livingston Award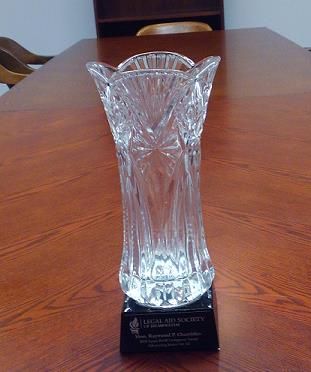 The Honorable Raymond P. Chambliss, recently retired Presiding Judge of Jefferson County Family Court, is the 2018 Legal Aid Society of Birmingham's Susan Bevill Livingston Award recipient. Judge Chambliss is no stranger to Legal Aid. He began his legal career with Legal Aid defending indigent youth as a defense attorney. He later served as Senior Trial Referee at Family Court. For 16 years, he was a judge at the Birmingham Municipal Court. Eight of those years were spent as presiding judge. He has always been a supporter of our mission to vigorously represent children and indigent citizens.
The Livingston Award was established in 2014 to honor the life and memory of Susan Bevill Livingston, a wonderful wife, mother, friend and lawyer, who at the time of her death served as the Vice-Chair of the Board of Trustees for the Legal Aid. Previous recipients were: William N. Clark, 2015; Lisa W. Borden, 2016; and, the Honorable Sandra Storm, 2017.